Baltimore Orioles: It is time to get rid of Chris Davis
It is time for the Baltimore Orioles to face reality and sever ties with Chris Davis.
If one was to put together a list of the worst contracts in the game today, the Baltimore Orioles deal with Chris Davis may be at the top. Signed to a seven year, $161 million extension prior to the 2016 campaign, Davis has been a disaster at the plate, even setting a major league record for the most consecutive plate appearances without a base hit. And yet, the Orioles have kept Davis on the roster, as they have hoped to get something from that contract.
On Wednesday, Davis may have ended his tenure with the Orioles. During the middle of the fifth inning, he was involved in an altercation with manager Brandon Hyde, needing to be held back by hitting coach Don Long and Mark Trumbo.
Davis was immediately lifted for a pinch hitter, with Jace Peterson taking his spot in the lineup. He had also left the ballpark before the end of the game, which was probably his best move of the night.
Both the Orioles and Davis are struggling. Despite being a bit of a feel good story when he had a brief tear when he snapped his hitless streak, Davis has continued to be awful throughout most of the season. His .182/.269/.320 batting line, with 111 strikeouts in 279 plate appearances, is no longer major league caliber.
Now, after that latest blow up, there is no reason to continue the charade. There is no reason to keep Davis on the roster, taking up space on a rebuilding team. Even the idea of "veteran leadership" is out the window, given his outburst.
It is time to bite the bullet and release Davis. His contract is a sunken cost anyway, so why not use that spot on the 25 man roster for someone that could be a part of the future? Cutting Davis loose would be the perfect way to bring up Ryan Mountcastle, who would be able to get consistent playing time as the Orioles see if he can be a part of the future. It would appear to be a perfectly logical move.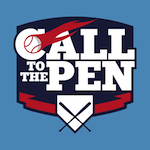 Want your voice heard? Join the Call To The Pen team!
Write for us!
Instead, chances are that Chris Davis will be in the Baltimore Orioles lineup on Friday. After all, there is nothing logical about the Orioles keeping him around at this point.