Washington Nationals and Stephen Strasburg Dodged a Bullet – Maybe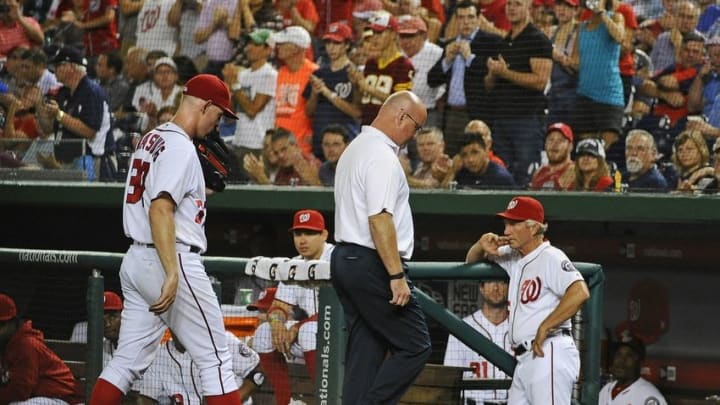 Sep 7, 2016; Washington, DC, USA; Washington Nationals starting pitcher Stephen Strasburg (37) is removed from the game with an apparent right arm injury during the second inning against the Atlanta Braves at Nationals Park. Mandatory Credit: Brad Mills-USA TODAY Sports /
The Washington Nationals may have dodged a bullet regarding an injury to an ace starting pitcher. Then again, they may not have.
On Wednesday night, the NL East Division-leading Washington Nationals appeared to be getting even better for the stretch drive as they welcomed back ace right-hander Stephen Strasburg from a nearly month-long stay on the Disabled List.
But just 2.1 innings and 42 pitches into his first start back against the division rival Atlanta Braves in front of a small midweek crowd of 19,894 at Nationals Park, something went wrong. Horribly wrong.
After Dansby Swanson doubled to lead off the top of the 3rd, Strasburg struck out opposing hurler Mike Foltynewicz, who had fouled a bunt attempt on a 1-2 pitch. Then it happened.
Matt Snyder at CBS Sports described it in this way:
"Strasburg was actually throwing hard and looking pretty great. He then uncorked a wild pitch, appeared to react in pain and then had a discussion with an athletic trainer. That discussion ended with Strasburg leaving the game, and he appeared to be heading directly down the clubhouse. He was covering the bottom part of his face with his glove, which generally indicates and extreme level of frustration."
Nationals fans, and frankly true baseball fans everywhere, expressed genuine concern for the All-Star who has already undergone one Tommy John surgery in his career.
A 2nd TJ surgery was the early speculation by nearly everyone who had seen or heard about the injury, his reaction, and the early comments.
Nationals manager Dusty Baker reported after the game that Strasburg felt pain in the back of his elbow, and would be sent for an MRI on Thursday.
"He did everything that was asked of him," said Baker per a Sports Illustrated wire report. "He was cleared. He wasn't trying to be a hero. He said that he felt fine. But a lot of times you really don't know until you get into action."
Strasburg received that MRI today. The reports are that his replacement ulnar collateral ligament is intact, and that he will not need that 2nd TJ surgery after all.
However, the news was not all good. The 28-year old former first overall MLB Amateur Draft pick has a "strain of the flexor mass in his right elbow, and his timetable for return is unclear" per Chelsea Janes at The Washington Post.
The Flexor Pronator Mass is in your forearm near the elbow, and the flexor muscles are those which flex your fingers.
The tendons connecting your arm muscles to your finger bones stretch along your arm from the elbow down to the fingers. It is these muscles which let a pitcher perform the act of gripping and throwing their pitches.
Pitchers use these muscles and tendons so frequently, some might say that over time it amounts to abuse. This overuse makes them particularly subject to inflammation and injury, including debilitating injuries.
In a piece published at his own website back in January of 2011, orthopedic surgeon and sports medicine specialist Dr. David Geier described the normal recovery process from an injury such as Strasburg's appears to be, where TJ surgery is not needed:
"Most of the time, a flexor-pronator strain is treated with rest from pitching for several weeks to give the tendons time to heal. Ice and physical therapy can also be helpful to decrease the athlete's symptoms. As the pain improves, the pitcher will be started on a long toss program prior to returning to full pitching."
So while Strasburg's timetable to return may be publicly considered "unclear", we can make a fairly reasonable educated guess.
It is likely that he is not going to be doing any throwing for a few weeks, probably 3-4. That period would take us to the end of the 2016 MLB regular season.
More from Call to the Pen
He is then going to need a period of long toss, and some type of gradual buildup before returning competitively.
If the Nationals are smart, and they will be with their prized arm, that will be a gradual process that is likely to take another 2-3 weeks.
Bottom line is that if we are to see Stephen Strasburg again this season, it may not be until the National League Championship Series, or even the World Series, should Washington advance that far in the postseason.
A more prudent idea, if Strasburg is ready at all at that point, might be to bring him back to pitch out of the bullpen during any possible postseason availability.
Next: Baltimore Orioles Getting Healthy at the Right Time
I'm not a doctor. But from what I have read, and from other similar injuries to pitchers such as the current example of Saint Louis Cardinals reliever Trevor Rosenthal, out since late July, a return of Stephen Strasburg to the Nationals at any point in 2016 looks like a longshot right now.