San Francisco Giants History: Move to Florida Denied by MLB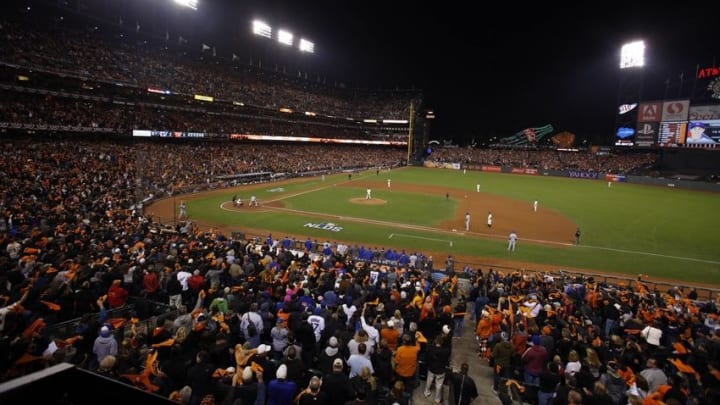 Oct 11, 2016; San Francisco, CA, USA; A general view of ATT&T Park during game four of the 2016 NLDS playoff baseball game. Mandatory Credit: Kelley L Cox-USA TODAY Sports /
Neither the Tampa Bay Rays nor the Miami Marlins were going to be the first team in Florida. Instead, it was the San Francisco Giants who attempted to call the Sunshine State home before being shot down on this day in 1992.
The state of Florida was the destination du jour for teams who were looking to have a new stadium built on the backs of taxpayers. The state of Florida, particularly the St. Petersburg area, was desperate to attract an MLB team, and having that potential leverage allowed teams to get what they wanted. At least, for the most part.
However, there was one team ready to follow through on their threat to move to the St. Petersburg area. The San Francisco Giants, who had been attempting for almost two decades to have a new stadium build to replace Candlestick Park, were getting frustrated by the process. Both San Francisco and San Jose had turned down referendums to build a new stadium, which owner Bob Lurie felt was vital to the team's success.
Given those frustrations, Lurie had entered into an agreement to sell the Giants to a group headlined by Vince Naimoli for $110 Million on August 8, 1992. That move was subject to the approval of the league, and of 3/4 of the teams in the National League, as well as at least a majority of American League teams. With the turbulent times in the game at the time, that consensus was not a given.
More from Call to the Pen
And so it came to pass that, on this day in 1992, just about two months after the sale had been agreed upon, that expected trouble came about. Owners throughout the league blocked the sale, refusing to permit the Giants to move to the St. Petersburg area. They would remain in San Francisco, at least for the moment.
In time, both St. Petersburg and the Giants got what they wanted. A new ballpark was built on an inlet of the San Francisco Bay, as AT&T Park, or Pac Bell Park as it was called then, opened its doors on April 11, 2000. Naimoli and his investors finally attracted a Major League team to the St. Petersburg area, as they were rewarded with the expansion Tampa Bay Devil Rays, who began play in 1998.
It certainly would be strange to think of the Giants in St. Petersburg. Neither the St. Petersburg Giants, Tampa Bay Giants, nor the Florida Giants sound right when spoken aloud, and breaking up that rivalry with the Los Angeles Dodgers would have been a travesty. Fortunately, that move did not come to pass.
Next: Gold Gloves feature nine first time winners
There was a time when the threat of moving to St. Petersburg was enough to get a municipality to bend to the will of a baseball team. However, no team came as close to moving there as the San Francisco Giants did.