MLB Players Are Replaceable – Until They're Not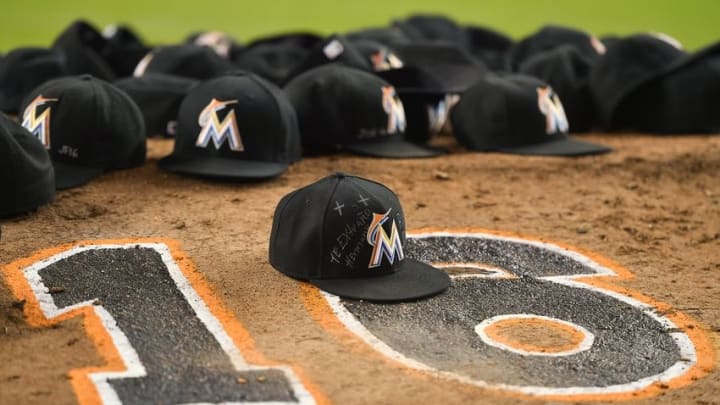 Sep 26, 2016; Miami, FL, USA; Hats of the Miami Marlins lay on the pitchers mound after the game to honor teammate starting pitcher Jose Fernandez at Marlins Park. Mandatory Credit: Jasen Vinlove-USA TODAY Sports /
In tragic news Sunday morning, MLB lost a former top prospect and a current young up-and-coming young pitcher. This marks an all-too-frequent occurrence among MLB players, the loss of young life. How do you "replace" such a thing?!
For so many baseball fans, Sunday was a tragic day as the news about Andy Marte and Yordano Ventura broke, and it simply hearkened back to that fateful Sunday morning in September as the news about Jose Fernandez's tragic passing.
There are many reasons for it, but we seem to have moved into an era where players have become fungible and these tragic incidents are seen as blips on the radar rather than major, altering events.
I can tell you were I was when I found out in March of 2006 that Kirby Puckett, one of the favorite players of my youth, passed away. He perhaps was not the most wonderful person off the field in the end, but I had built up such a love for the player that his death was impactful to me.
I remember strongly the players who were active and passed away when I was growing up. It didn't seem to happen that often, frankly. I was born a couple of months after Thurman Munson passed away in a plane crash, and I didn't really have cognition about the game until I was 4, and from that point until I was 14, not a single active major league player passed away. Even then, it was three in one tragic accident, the boating accident that took the lives of three Cleveland Indians players.
Now, in the last 10 years, 11 active major and minor league players have lost their lives, yet it doesn't seem like I could name maybe more than 2-3 of them until reminded of each of their names on a Wikipedia page. So many were tragic stories, lives cut short due to accident or tragic circumstances, yet it seems like we move on and "forget" about these guys all too quickly.
Now in the last four months, the game has lost at nearly every level – a superstar pitcher in Jose Fernandez, a minor league pitcher on his way up in Yorman Landa, a solid current young pitcher in Yordano Ventura, and a former top prospect in Andy Marte.
Why is it that I think many of these guys will go the way of so many other young players lost too soon that we don't even remember without prompting anymore?
Fantasy
For many of us who play fantasy baseball, we have multiple teams, even many teams.
I have personally had times in my life when I've had over 40 baseball fantasy teams (along with plenty of football and basketball fantasy teams – I'm just a touch into the fantasy sports thing…). Like I do, many play in multiple styles of leagues, from single season leagues to keeper leagues to dynasty leagues.
For me, Sunday was rough as I caught wind of Ventura's talent as a 20 year-old pitcher in the Midwest League. His velocity received huge reports, and he was striking out over a batter per inning. I picked him up in one of my dynasty leagues, and by the next season, he was near untouchable for me after seeing him pitch a couple of times online.
He was only 25, but this was a young pitcher that I'd cheered for heavily for 5 years. That hurt.
In fact, not to make this just about my fantasy teams (because the only thing less interesting about your fantasy team is…well, there's nothing less interesting to someone else than your fantasy team!), but I also had Jose Fernandez in another dynasty league.
This offseason in both leagues, I'll have to replace those players, and that will be tough. However, in single season leagues or longer-term leagues that are just starting this year, you just wouldn't consider Ventura or Fernandez.
This sort of attitude is not cold, it's not hurtful, it's not dismissive. It's simply reality.
You wouldn't draft a player that is no longer living to your fantasy baseball team, and you wouldn't even consider him for your draft. That's not surprising, but it certainly does add to our minds quickly moving past a player's passing.
Statistical Focus
One of the statistics that has become the focal point for nearly every argument you find, whether it's awards, who's the best at each position, or even Hall of Fame, is WAR – wins above replacement.
There are a few different types of the same statistic based on the source that is calculating, but the essential goal of the number is the same – figuring out how much better than an average player coming up from AAA a player is.
However, one of the downfalls has been that calling a player "replaceable" leads to considering players exactly that – fungible, every day parts of the machine that is the game of baseball.
Instead of valuing a guy for his tremendous attributes on the field or his quirky batting stance or even his smile, now we boil it all down to one number.
One of my favorite arguments in the 1990s was the debate of the best center fielder of the era. While in retrospect, it's pretty clearly Andruw Jones, at the time there were arguments for Jones, for Jim Edmonds, for Torii Hunter at times, for Mike Cameron at times, and for a host of others as well. Now, while imperfect, there are statistics galore to back our arguments, which does take away some of the nuance of such arguments.
I can argue that Andrelton Simmons is the greatest fielder alive, regardless of position. I may even have some people who think that from the eye test, that would be a defensible position. However, from defensive runs saved in 2016, Simmons wasn't even the best shortstop, finishing with 18 runs saved while both Brandon Crawford and Addison Russell contributed 19.
That turns players much more into a number rather than a player, no matter how many lovely GIFs you may be able to find showing off the attributes of said player.
Forums/Reddit/Message Boards/Blogs
I have always been a sports nut, and unapologetically so. When, in college, I found sports forums and message boards online, especially ones that focused on my favorite team, the Atlanta Braves.
Growing up in rural South Dakota and going to college in Minnesota didn't lend to a lot of Braves fans to discuss the team with, and certainly not to the depth of fan-dom that I quickly achieved in my early teens – knowing the team's minor league system through this wonderful new internet along with the major league club.
On those Braves forums, Marte was one of those seminal discussions that really showed me the love of the team. In the offseason of 2005, the Braves traded Marte, then rated as the #9 overall prospect by Baseball America, to the Boston Red Sox for Edgar Renteria. The Red Sox then shipped Marte to Cleveland just over a month later in a 7-player deal.
Those forums had distinct sides where those who were strongly against cashing in such a major prospect chip as Marte for a perceived "minor" piece such as Renteria upset them. The opposition believed strongly that prospects predominantly fail, and therefore should be utilized as frequently as possible to supplement the big league club if there's an established player available.
Those two opposing sides continued arguments and posing for multiple years (and in truth, those from those forums who are still chatting together even still discuss the deal today). Passion about the team and also about a side of an argument led to tremendous discourse.
In the end, who the players actually were ended up lost in the game theory over what happened. The discussion became more about using numbers and reasoning about organizational philosophy than about the players.
Many have stated that these forums where everyone has a voice does give voice to the uneducated troll, but it also really gives "power" to the educated fan, and pushes those in the middle to become more well-educated on the entirety of the game. It's definitely something that is notable in the "younger" generation of fan that grew up with the internet – they have a much more broad knowledge about the game and players throughout the game, along with a more in-depth knowledge of their own favorite squad.
So, while not any one reason allows us to gloss over these tragedies, many different ideas along with the ones highlighted here have seemingly allowed the more frequent occurrence of these active player deaths to pass over like water off a duck's back.
For now, let's remember the positive of each of these players and enjoy these times of reflection as, sadly, the next one will come too soon, and we're likely going to move past these young men all too soon.
Next: Reds Revised Top 10 Prospect List
One of the more beautiful moments of 2016 was the leadoff home run of Dee Gordon in the Marlins' first game back after the passing of Fernandez. I thought that an appropriate way to end this piece: