MLB Draft: Top High School prospect Ethan Hankins has rough end to big week
Top MLB draft prospect Ethan Hankins had a big week, but it did not end the way he hoped.
The MLB draft is still roughly four months away, but already one of the top players involved could have hurt his draft stock.
Ethan Hankins is one of a very highly-touted high school class in the 2018 MLB draft. Some have considered this summer's upcoming high school class as one of the more promising classes as far as depth is concerned in quite a few years, and Hankins is routinely ranked at the top of the list.
He had a very busy week of games this week.
Hankins' week
For those who don't know the name, Ethan Hankins is a guy that many would soon get to know over the spring. He's a strong right-handed pitcher who stands 6'6″ and has a long-armed, lean frame that generates easy mid-90s velocity along with some excellent movement on his breaking stuff.
The Georgia teen saw his MLB draft stock skyrocket over the summer, to the point where Baseball America's Carlos Collazo rated him as the top pitcher in the class after an impressive August outing at the East Coast Pro.
This week got Hankins both notoriety for his ability away from the mound and an issue on it.
On Wednesday, he tweeted this:
As many such videos do, it brought out the divide over bat flips and "pimping" home runs from many online. However, it's hard to decline that he has a quick swing that was able to power the ball out of the park in a hurry. While he does not have a pro future at the plate, it definitely added to the discussion of his overall athleticism.
Then came the disheartening tweet from Kiley McDaniel that Hankins had left his start on Saturday morning with shoulder soreness.
How this will affect Hankins' MLB draft stock is to be seen as he will be getting the shoulder looked at, and he could be back on the mound for his next start.
If this is something that causes him to miss a few starts, he could fall down the draft board a bit, perhaps creating a bit of a scenario akin to Lucas Giolito or Jesus Luzardo, who were both highly thought-of high school arms that saw their draft stock fall due to injury and have recovered well as professionals.
The hope many in the MLB draft community have is that Hankins doesn't push through this injury just to help his high school team as he could have a very, very bright future ahead of him.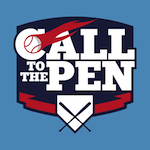 Want your voice heard? Join the Call To The Pen team!
Write for us!
Certainly, all the best is hoped for Hankins at this point as his electric fastball and impressive ability to control his stuff at his size and age are the sort of things you don't see come along often in the MLB draft.