Cardinals rumors: St. Louis Cardinals front-runners to land Josh Donaldson?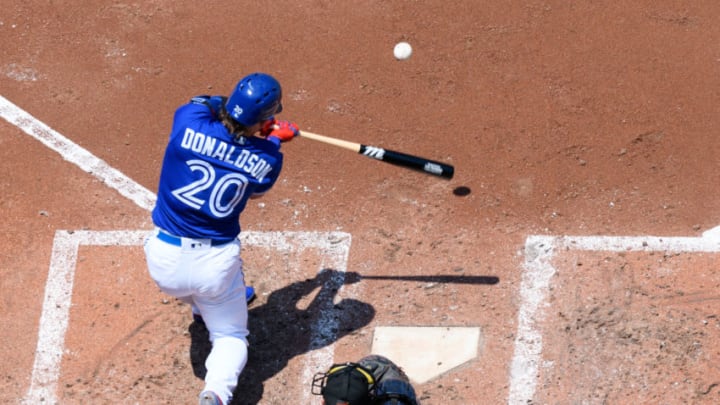 TORONTO, ON - MAY 24: Toronto Blue Jays Third base Josh Donaldson (20) bats during the MLB regular season game between the Toronto Blue Jays and the Los Angeles Angels on May 24, 2018, at Rogers Centre in Toronto, ON, Canada. (Photograph by Julian Avram/Icon Sportswire via Getty Images) /
The St. Louis Cardinals are front-runners to land former AL MVP Josh Donaldson from the Toronto Blue Jays. Could be the spark their offense so desperately needs?
The St. Louis Cardinals are in need of reinforcements and an offensive boost, after an injury-plagued start to the 2018 season. If it weren't for the walk-off magic and 9th inning heroics (and beating up on the lowly Cincinnati Reds), the Redbirds would be dead in the water.
However, they are still right in the thick of things in the NL wild-card race — mostly due to phenomenal starting pitching, but could use another bat to help spark a lineup that has lacked consistency in 2018.
According to USA Today's Bob Nightengale, he believes the St. Louis Cardinals are the front-runners to land Toronto Blue Jays third basemen and former American League MVP Josh Donaldson.
"The Blue Jays don't have any intention to re-sign him, not with Vladimir Guerrero Jr. around.The Cardinals love his bat, and even more, his attitude. The perfect fit now, and the perfect destination for the future."
Honestly, this would not be a great move the St. Louis Cardinals, for a number of reasons. There's no point in trading for a player who is now a former shell of his self and defensive liability, with his lack of consistent throws from third base.
Plus, he's nursing a calf injury that could linger the rest of the season.
The Toronto Blue Jays, although desperate to get rid of Josh Donaldson before he becomes an unrestricted free agent in the offseason, would undoubtedly want to snag some of the St. Louis Cardinals promising young talent in return.
As much as I liked this idea last year, right now it's a terrible idea. You don't want another Greg Holland type situation where you are going to pay megabucks (Josh Donaldson's in the midst of a 23 million dollar salary for 2018) and get little to no production in return.
Once Paul DeJong returns to the lineup later this summer, and with the stellar play of rookie Yairo Munoz, there's no need to panic and pull the trigger on Josh Donaldson.
Making a move for Josh Donaldson this year would not make any logical or logistical sense. If you are going to take a chance on him, wait until the off-season.
Next: What 3,000 hits would have meant for Pujols in St. Louis
Plus, the St. Louis Cardinals have Yadier Molina, Paul DeJong, Carlos Martinez, and (hopefully) Alex Reyes set to return in time to push the Redbirds into the 2018 postseason.