MLB expansion: Raleigh NC angling for major league franchise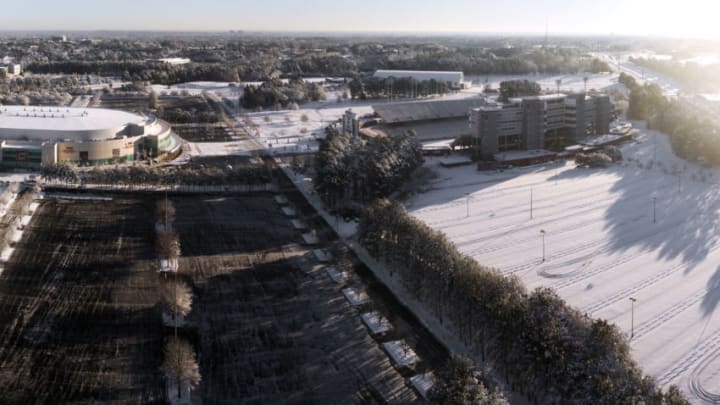 RALEIGH, NC - JANUARY 18: (EDITORS NOTE: Image is a digital panoramic composite.) An aerial view of PNC Arena (L), Carter-Finley Stadium (R) and the surrounding area following a snow storm on January 18, 2018 in Raleigh, North Carolina. (Photo by Lance King/Getty Images) /
Rob Manfred has discussed MLB expansion, and Raleigh NC is looking to become a potential candidate for a franchise.
At some point in time, MLB expansion will be coming. While commissioner Rob Manfred has made it clear that he wants to have the Oakland Athletics and Tampa Bay Rays stadium situations figured out first, the league will eventually grow to 32 teams. It is not going to happen overnight, or in the next year or two, but eventually, there will be a couple of new teams.
While cities like Portland, Las Vegas, and Montreal have been working to get Major League Baseball to come to their area, another city is throwing its name into the mix. Raleigh North Carolina has begun their campaign to get an expansion franchise.
Of course, expansion is not the only avenue for Raleigh to get a franchise. Relocation is also a possibility, especially given the uncertainty surrounding the Rays getting a new stadium. The Ybor City ballpark is dead, as the December 31st deadline passed without enough framework being in place for an extension. Considering that progress is being made on a new ballpark for the A's, if a team is going to relocate, it is likely to be Tampa Bay.
More from Call to the Pen
While Raleigh may not be the first market one thinks of when it comes to MLB expansion, it is a sizable market. It is listed as the 24th largest television market in the country, between Pittsburgh and Indianapolis. Portland, meanwhile, ranks 22nd.
That market size is already larger than the television markets for several other teams. However, it is a smaller market than what the Rays already have, should the team look to relocate. Tampa Bay-St. Petersberg is the 13th largest television market in the country, and the Rays do draw excellent ratings on television.
Obviously, for Raleigh to get a major league franchise, there is still a lot of work to be done. They would need to settle on a location for the stadium, locate funding, and find a group of investors to bring a franchise to the area. However, with a growing population and a relatively large market size, the idea of major league baseball coming to Raleigh may not be out of the question.
Raleigh NC is eyeing a major league franchise, either through expansion or relocation. While there is a lot of work to be done, that area may well be able to support a team.