Yankees: Luis Severino Shut Down 2-Weeks With Shoulder Injury
Two weeks after signing a 4-year, $40M dollar extension with the New York Yankees, Luis Severino has been shut down because of an apparent shoulder injury.
Luis Severino entered Spring Training with a chip on his shoulder this season. After struggling to maintain his dominance throughout all of 2018, the Yankees ace vowed to avoid a 2nd half collapse in 2019.
Now, with a little over three weeks before the first game of the 2019 season, Severino has been shut down for 2-weeks after feeling discomfort in his right shoulder. ESPN's Marly Rivera reported that Severino's MRI showed rotator cuff inflammation and is "highly unlikely" to be ready for Opening Day.
Last season, Severino solidified himself as a surefire MLB ace when in his first 18 starts, he strung together a 13-2 record with 1.98 ERA. He struggled to maintain his dominance, however, as it was later reported that he was tipping his pitches.
Severino has dealt with health issues early in his career. In 2016 Sevy made just 22 appearances in 2016 due to a DL stint. That season, after the injury and due to poor play, Sevy would be optioned to AAA and the recalled three times.
Fortunately, after adding James Paxton and retaining CC Sabathia and J.A. Happ, the Yankees can afford to lose Severino for a start. Also, if things fare worse than they currently appear, there are still adequate pitchers available in free agency, like Dallas Keuchel and Gio Gonzalez, that might consider taking short-term contracts.
In the meantime, however, there is no need to panic. Per Erik Boland of Newsday, other than the rotator cuff inflammation, Severino's "MRI looked pretty good."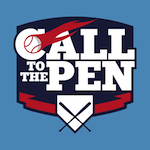 Want your voice heard? Join the Call To The Pen team!
Write for us!
So, the best bet for the Yankees right now is to sit tight and thank their lucky stars that this isn't something worse.