Philadelphia Phillies: Bryce Harper Exits Game After HBP
Philadelphia's $330M man, Bryce Harper exited a Spring Training game after being plunked by a 96 MPH fastball. How worried should the Phillies be?
On Friday, Philadelphia Phillies fans might have gotten the biggest scare of the year so far when Bryce Harper, baseball's highest-paid player, took a 96 MPH fastball to the ankle. Seeing Harper fall to the ground, while holding on to his ankle in agony, I can only imagine what the team and it's fans were thinking at that moment.
With just under 2-weeks before Opening Day, the Phils are looking like the class of the NL. In total, they have spent close to $500M, most of which went to the stud outfielder who, this spring, has gone hitless while still managing to draw enough walks to feature a .444 OBP.
The good news is that Harper was able to limp off the field without any help. Also, according to Meghan Montemurro of The Athletic, Harper and the Phillies seemed to avoid a major blow as the outfielder seems to only have a contusion.
However, x-ray reports have not been released as of this writing. Therefore, a fracture is not completely out of the question and could sideline Harper for an extended period.
Bryce Harper has made several trips to the DL in his career, missing significant time in two out of his seven big league seasons. Entering his first season with the Phillies, this isn't a good start for the outfielder and the organization.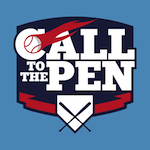 Want your voice heard? Join the Call To The Pen team!
Write for us!
Hopefully, the injury is minor and Harper can return and contribute in a big way for this thirsty city and organization.