Los Angeles Angels: Mike Trout to be in Cali for life with $430 million Deal
It looks like 2019 will be the year of the baseball contracts that defy belief and the Los Angeles Angels have outdone all of them with their deal with Mike Trout.
It looks as if the Los Angeles Angels have done what many thought would not happen with All-Star Mike Trout.
The Angels and Mike Trout appear to be closing in on a record-setting contract that will keep the best baseball player on the planet in California for the rest of his career according to Jeff Passan of ESPN:
First, we had Mookie Betts sign the highest ever arbitration deal at $20 million. He was quickly outdone by Nolan Arenado at $26 million in another arbitration deal. Then, Manny Machado got his fifteen seconds with what was at the time, the highest and most unexpected deal of the season at $300 million for 10 years with the Padres.
Then, Arenado outdid him with his $260 million eight-year deal with the Rockies. Even though the total was less, the average annual value was an astonishing $32.5 million.
Then, there was Bryce Harper with his $330 million for 13 years.
All the while, we knew Trout was out there simmering. Would he go to the Phillies? Would the Angels lock him down forever? Trout appeared to be out of the picture as he went on the record as saying he didn't want to negotiate during the season.
Well, so much for that.
We all knew that Mike Trout was already a very rich young man. At age 27, he has already been paid over $78 million and will make $34 million in 2019. But, the seven-time All-Star draws a crowd. I, for one, have bought excellent seats to see Trout play when the Angels come to a stadium near me. I can't imagine that I'm alone in doing so.
Hopefully, the Angels can back up this signing and surround him with players who can get the Angels to the playoffs. He will eat up at least $35 million annually, which is a little more than $200,000 per game for the next 12 years. Wow.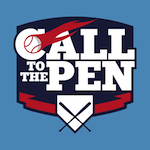 Want your voice heard? Join the Call To The Pen team!
Write for us!
This is the largest sports contract in the history of the world. It is so fitting that it comes with very little fanfare. The lessons in all of this craziness that is the 2019 MLB off-season: learn to hit a baseball really, really hard and learn to run very, very fast. There's one more lesson that is hard to ignore. And, that is that hard work pays off. Congratulations to Mike Trout and the Los Angeles Angels.