Reyes Moronta: A Hidden Gem
There isn't much excitement surrounding the San Francisco Giants to start the 2019 season. After having the worst record in baseball in 2017, 64-98, they followed it up with a better, but still not good, 73-89 record in 2018.
That doesn't inspire much hope for the upcoming season. The San Francisco Giants tried to make some moves, under recently hired Farhan Zaidi. For example, the team just missed out on Bryce Harper, who is now in Philadelphia.
Buster Posey and Evan Longoria are aging, Brandon Belt can't seem to stay healthy and Brandon Crawford, Joe Panik, and Madison Bumgarner are declining. They just don't have the guy who is eye-popping and a must watch.
Enter Reyes Moronta, a small glimmer of hope is what promises to be a dark season in San Francisco.
The Giants signed Moronta out of the Dominican Republic in 2010. He stewed in the minors until 2017, when he made his big league debut. He only pitched in 6 2/3 innings and allowed two earned runs, but he struck out 11. In 2018, he burst onto the scene.
The 26-year-old pitched in 65 innings of relief and posted a 2.49 ERA which led not only all Giants relievers but all Giants pitchers. He also led the teams' relievers in strikeouts with 79, a 10.2 K/9, and had a 1.092 WHIP. Statistically, he was the Giants best reliever in 2018. He starts to get really fun when you dig into his Statcast numbers.
Moronta was really only a two-pitch pitcher in 2018, throwing his fastball 50.9 percent of the time and his slider 48.9 percent of the time. He has a changeup, but that was only used 0.2 percent.
His slider is the better pitch, having a 47 percent whiff rate, compared to the 40 percent on his fastball. For comparison, Adam Ottavino, who is known for his slider, had a 37.2 percent whiff rate on his slider on 2018.
Moronta's hard-hit rate was 26 percent, which placed in the top two percent of the league according to Baseball Savant. His exit velocity, 85.2 miles per hour, ranked in the top eight percent of the league. Finally, his barrel percentage was 4.1 percent. In comparison, Ottavino's barrel percentage was 3.9 percent.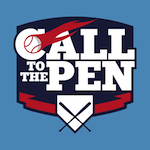 Want your voice heard? Join the Call To The Pen team!
Write for us!
The San Francisco Giants need exciting players and Moronta can be that guy. He will look to have another great season in 2019, and very well may end up being the only Giants All-Star if the season goes as most people think it will.