Los Angeles Dodgers: Cody Bellinger Becomes Fastest Dodger to 100 Home Runs
Cody Bellinger is already making his mark on the Los Angeles Dodgers record books.
Cody Bellinger slugged his 36th home run of the season this past Friday against the Padres to become the fastest member of the Los Angeles Dodgers to the 100 home run mark. It took just 401 games for Bellinger to get to this milestone. That means (if we implement some "dumb guy" math that may or may not be accurate for a hot second) that Cody has set a pace where he hits a home run every 4 games during the course of his short career.
And to top it all off, Bellinger is leading the way for NL MVP with his robust numbers and Statcast analytics which we'll get into in just a few seconds. Cody is quickly becoming one of the best players in the majors who's on the verge of achieving "superstar" status due to his ability to not only hit home runs ad nauseam with 90th percentile "hard hit" contact, but also with his ability to play a stout outfield with blazing speed and one of the best arms in baseball.
Long gone are the days he strikes out 17 times in a World Series. This is now a guy who can hit for contact on top of his tremendous power while avoiding the strikeout. We've seen him take huge strides in 2019 in his plate coverage. For a guy that's a legit 6'4," one place in the zone pitchers could always take advantage of him was inside.
A guy as long as Cody is used to have trouble getting his hands his because of his pure reach. If we look at this year's film, we'll see he's hitting a phenomenal .483 and .375 in the low-inside/inside-middle zones (weighted average of .429)
As opposed to the previous two years, Cody struggled in those two areas of the plate and hit just .250 in 2018, and .287 in 2017. We can now see the major jump in average when we look at this year.
When we look at Statcast by way of "Baseball Savant," we see he's in the:
97th percentile in Hard Hit%
90th percentile in Exit Velocity
100th percentile in xwOBA
100th percentile in xBA
99th percentile in xSLG
…..and in regards to his fielding and athletic agility:
90th percentile in Outs Above Average
83rd percentile in Outfielder Jump
91st percentile in Sprint Speed
The analytics prove this guy is an elite player who hits the ball hard as often as/more than any other player in the league.
And if we just want to look at the basic stuff in stats, check out the decrease in strikeouts from the previous two years to this. 146 and 151 strikeouts in 2017 & 2018 as he now comes in at 74 Ks for the year heading into mid-August.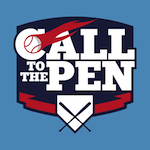 Want your voice heard? Join the Call To The Pen team!
Write for us!
Cody Bellinger is one of the best players in baseball right now. If not for one Mike Trout, he'd be seriously in the conversation for the best overall. His plate coverage is off-the-charts. His athletic ability is elite. He's on a team that's dominating. We're going to be seeing a ton of Cody Bellinger for years to come and it's super exciting.