Dodgers: Does Hyun-Jin Ryu have the Cy Young locked up?
Los Angeles Dodgers' pitcher, Hyun-Jin Ryu is having a ridiculously good season on the mound this season, but that begs the question, has he already won the NL Cy Young?
Hyun-Jin Ryu is having a spectacular season so far for the Los Angeles Dodgers, but has he done enough to already have the NL Cy Young award locked up? There are plenty of excellent pitchers in the National League, so let's compare some of them.
For the purpose of this, I'm going to take the top 5 leaders in ERA in the NL and take a look at multiple stats to place Ryu with the rest of the NL pitchers. Currently, the top 5 NL pitchers in ERA are as follows: Ryu (1.45), Mike Soroka (2.32), Max Scherzer (2.41), Jacob deGrom (2.68) and Luis Castillo (2.69).
As far as ERA, Ryu is heads and shoulders above the rest. He has been locked in since the beginning of the season. He almost has a full run lead on Soroka and it's possible he extends that to a full run before the end of the season.
Another important stat is WHIP and of these 5 pitchers, Ryu is leading it as well with a 0.93. To put that into perspective, Soroka's is 1.08, Scherzer has a 0.99, deGrom's is 1.07 and Castillo's is 1.11.
Now Ryu has never been a big strikeout guy and will never strike out as many batters as Scherzer (189) or deGrom (189), but he has been solid at 121. He excels at his control and has only allowed 10 home runs so far this season and has only walked 17 batters, which is by far the lowest of these five.
The last stat I think is important here is WAR or wins above replacement. Both Ryu and Scherzer lead this department with a 5.4, which is leading the NL. The other three are as follows with Castillo at 4.7, deGrom at 4.6 and Soroka at 4.4.
I honestly think this is a two-horse race between the Washington Nationals' Scherzer and Ryu. Both pitchers have had phenomenal seasons and are poised to lead their teams into the postseason. The race will come down to what the voters value most, ERA or strikeouts.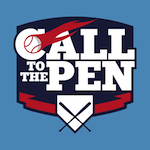 Want your voice heard? Join the Call To The Pen team!
Write for us!
I think Los Angeles Dodgers ace Hyun-Jin Ryu will win the Cy Young award, but he most definitely doesn't have it locked up yet.