Washington Nationals: Why they will win the World Series
The Washington Nationals have never gotten past the division series of the postseason, but with Bryce Harper gone, it is their best shot to win it all.
The St. Louis Cardinals and Milwaukee Brewers were battling over the weekend for the NL Central because they knew if they didn't win the division, they were probably going to not advance to the division series. Why? Because they would be facing Max Scherzer and the Washington Nationals in Washington on Tuesday night.
You could say the Nationals are the favorites to win the Wild Card game. Not just because of Max Scherzer but manager Dave Martinez has said Stephen Strasburg AND Patrick Corbin are available for Tuesday's matchup with the Brewers.
My whole point here is that the Nats will be hard to beat and no team wants to play them.
This is the Nats best chance to advance in the playoffs even if they are playing the Dodgers.
I know it seems like the Dodgers are going to be hard to beat but the Nationals have a better rotation and both team's bullpens aren't very elite so a possible Dodgers-Nationals NLDS would come down to the offenses.
Potential MVP Anthony Rendon, Juan Soto, and Victor Robles have led the offense this season, and to be honest they have provided their rotation with plenty of runs.
So, with that said, the Nats are in prime contention to go far in the playoffs for the first time in franchise history and part of that is because they don't have Bryce Harper.
As much as I hate to say this, I know Harper has delivered some key home runs in the postseason but the team has also lost every series Harper played in with the Curly W on his chest so he might have been the 'curse'.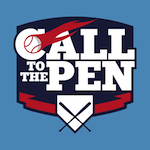 Want your voice heard? Join the Call To The Pen team!
Write for us!
The Washington Nationals do have a tough road getting farther than they ever had, but they have a great rotation and a great lineup, and we know anything can happen in the postseason.