Washington Nationals: Can Anthony Rendon actually win the NL MVP?
Washington Nationals third baseman Anthony Rendon had the best season of his career. But is it enough to win the NL MVP award?
Washington Nationals third baseman Anthony Rendon has long been one of the MLB's most underrated stars. For most of his career, he lived under the large shadow of his former teammate and MVP, Bryce Harper.
While Harper stole the headlines, Rendon has quietly improved almost every year. However, Harper signed a mega-contract with the division rival Philadelphia Phillies, thus opening the door for Rendon to become the anchor of a young, talented Washington Nationals offense.
Rendon did not disappoint. He came out the gates scorching hot in 2019, hitting .356 with 6 home runs and 18 RBIs through the first 20 games of the season.
At the end of the first half, Rendon was hitting .304/.386/.611 with 20 home runs and 62 RBIs. His incredible performance earned him his first All-Star game selection, after being noticeably snubbed in each of the past two seasons. Unfortunately, he was not able to play in the All-Star game due to an injury.
However, in the second half, he returned with an even bigger chip on his shoulder. Thanks to a scorching-hot August, he finished the year with a .319/.412/.598 slash line with 34 home runs, an NL-leading 44 doubles, and an MLB-leading 126 RBIs. What was once a two-man race between Cody Bellinger and Christian Yelich became a lot more interesting with Anthony Rendon's second-half surge.
So, let's look at the numbers to determine whether or not Rendon has a realistic shot at dethroning Yeli and Belli.
While Rendon leads the league in runs batted in, he ranks 7th in weighted runs created plus (wRC+). This stat measures the totals runs created by a player, while comparing it to league averages after controlling for park effects, according to Fangraphs. Rendon's 154 WRC+ is behind Bellinger (162) and Yelich (174). wRC+ is a stat that is analysts are relying more and more heavily upon as a measure of total offensive production.
On the contrary, Rendon ranks 15th in the league in strikeout rate with an impressive 13.3%. This ranks marginally higher than Bellinger (16.4%) and Yelich (20.4%). HIS 12.4% walk rate gives him an astounding -0.9% strikeout-to-walk rate differential. Furthermore, his .412 on-base percentage (OBP) places him second in the NL, right in between Yelich (.429) and Bellinger (.406).
It will be interesting to see if the MVP voters pay attention to statistics like this, which proves Rendon was superior to both Yelich and Bellinger in terms of putting the ball in play. However, given the modern nature of the game, it is unlikely that strikeout-related statistics will give Rendon enough of an edge to surpass Yelich and Bellinger.
One more advantage Rendon has over the other two MVP candidates is defensive prowess. While it is difficult to compare the defense of two outfielders to a third baseman, Rendon has outperformed them both in terms of defensive WAR (dWAR). Rendon's 4.1 dWAR is better than Bellinger's 3.2 and Yelich's -3.7. Some will make the case that this is more important than it seems, as third base is a harder position to excel in than the outfield. For our purposes, let's not consider that argument.
In conclusion, it will be tough for Rendon to take home the MVP, as voters have relied heavily on WAR in recent history. Since 2014, the AL and NL WAR leaders have taken home their respective MVP awards in each season. Cody Bellinger is the league leader this year with a 9.0 WAR, followed by AL MVP candidates Mike Trout and Alex Bregman.
At this point, this seems like a trend that will be too tough to overcome for Rendon. He currently ranks 10th among position players with a 6.3 WAR, behind the likes of Ketel Marte and Trevor Story. However, this year's voting will be interesting, since both Trout and Yelich had their seasons cut short, thus limiting their chances to lead the league in WAR (even though they still rank third and fifth among position players).
Maybe the trend will change this year. WAR has proven to be an inconsistent and hard-to-measure statistic, and any casual fan does not need WAR to recognize Rendon's immense role in the Washington Nationals' success in 2019. Rendon's outstanding performance will almost certainly grant him his first career top-3 MVP finish, but it is unlikely that he will hoist the trophy when it is all said and done.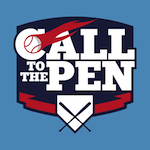 Want your voice heard? Join the Call To The Pen team!
Write for us!
Regardless of the outcome of the MVP race, Rendon had the best season of his career. As a result, he will enter the 2019 offseason as the top free agent on the market. If his regular-season performance is not rewarded with an MVP, it will certainly be rewarded with a lucrative, long-term contract.