Texas Rangers: Josh Donaldson to the Rangers?
An American League MVP in 2015, the soon-to-be 34-year-old Josh Donaldson, offers similar yet not as impressive production to that of highly sought after Anthony Rendon — another free agent third baseman the Texas Rangers are said to be looking at.
With the Texas Rangers set to open its brand new ballpark in 2020, Josh Donaldson could be just the star to create excitement for the upcoming season. A much less expensive one as well.
"The Texas Rangers have expressed interest in Josh Donaldson as they head into the offseason in which they have money to work spend. The Rangers are making third base and starting pitching a priority, and Donaldson is coming off a phenomenal season with Atlanta."
Phenomenal is right. After a middling start to the 2019 season, Donaldson wound up with 37 home runs in 155 games and a solid .259 average as the Atlanta Braves cleanup hitter. Overall, Donaldson's power-bat and strong defense was worth 4.9 WAR this past season, reminiscent of his glorious days in Toronto.
It's no surprise that the Rangers would be interested in a star-like Donaldson, as Texas could barely manage replacement value from the third base position in 2019.
Collectively, the Rangers produced 0.0 WAR from five different players at the hot corner (ranking 27th in the majors), with the 33-year-old free agent, Asdrubal Cabrera, leading the way with 0.7 WAR.
Overall in 2019, Texas third basemen slashed just .238/.322/.372 with a below-average 77 wRC+. The unit's defense wasn't ideal, either, finishing up the year with -5.9 Def WAR.
Financially, Donaldson could provide the Rangers with quite a substantial upgrade at the position, while saving the club from investing potentially $200 million in a pact with Rendon.
Consider what both players are expected to sign for this winter (via FanGraphs):
Rendon: 7 years, $210 million
Donaldson: 3 years, $71 million
Obviously, Rendon is the preferred player talent-wise, but the Rangers may be better suited by signing Donaldson and using some of the team's 2020 cash on other needs… such as starting pitching.
It will be interesting to see which route the Rangers take this winter. Despite not being expected to contend in the American League West this upcoming season, Texas may feel a bit of pressure right now as the Los Angeles Angels have garnered quite a positive outlook in terms of 2020 excitement.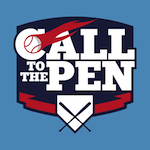 Want your voice heard? Join the Call To The Pen team!
Write for us!
Even if the Texas Rangers don't plan to contend for a World Series any time soon, picking up a star like Donaldson could certainly shift some of that excitement their way.