Atlanta Braves: Cole Hamels is not enough
The Atlanta Braves signed Cole Hamels on Wednesday to a one year deal but is this signing enough to be a real contender in the National League?
Cole Hamels landed in Atlanta with the Atlanta Braves on a one year deal worth $18 million. While some might think that the $18 million is an overpay I would argue against that claim because it isn't a drastic overpay and it is for just one year and Hamels brings more value to the organization than his performance on the mound every fifth day.
The Braves have a young rotation with Mike Soroka and Max Fried potentially at the forefront next year and they are going to need a veteran who has that World Series experience and knows how to attack hitters which is going to be valuable for that rotation.
He is going to slot in the middle of the rotation behind Soroka and maybe Foltynewicz assuming that they don't go sign a Madison Bumgarner.
But is this signing really enough?
It is not enough. Their rotation consists of Mike Soroka, Foltynewicz, Fried, and Hamels so they need another starter and I don't think it should be someone from the minors.
It needs to be a starter from the market that will compete in a seven-game series against good rotations like the Nationals, Phillies, and the Reds.
They also need to solidify their third base slot because Josh Donaldson is out there, but there are going to be a lot of teams trying to bid for him. Donaldson definitely is paying attention to what other teams are doing and while the Braves have made some solid moves, there are other teams that may interest him.
The Rangers already have a good rotation in Mike Minor, Lance Lynn, and Kyle Gibson in addition to the fact they are entering a new ballpark.
The Phillies are under pressure to win now, and they showed that with the Wheeler and Girardi additions but they have a hole at third base so I'm sure they will try to lure Donaldson to play with Bryce Harper.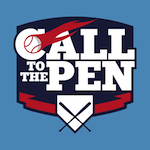 Want your voice heard? Join the Call To The Pen team!
Write for us!
With that said, the Braves still have work to do in the rotation and at third base, so the offseason is still not complete, but Atlanta is off to a great start.