Philadelphia Phillies missed chance to bring Cole Hamels back
Cole Hamel wanted to head back to the Philadelphia Phillies. Instead, the Phillies let Hamels slip away to a division rival.
The Philadelphia Phillies desperately needed to add to their rotation if they are going to be viable contenders in the National League East in 2020. While Aaron Nola has emerged as a front of the rotation starter, Jake Arrieta is essentially a fourth starter at this point. The rest of the rotation, prior to their addition of Zack Wheeler, was a giant question mark.
Even with that addition, the Phillies need more rotation help. They could have added that in Cole Hamels, who wanted to return to Philadelphia. However, the Phillies reported offer of just $9 million proved to be laughably low compared to the salary offered by the Braves.
Hamels is not the same pitcher he was in his tenure with the Phillies. The staff ace during their run of success in the late 2000s and into the early part of the decade, he posted a 114-90 record, along with a 3.30 ERA and a 1.145 WHiP, striking out 1844 batters while issuing 492 walks in his 1930 innings.
Although last season was not at the same level, Hamels still pitched well. In his 141.2 innings last season, he posted a 3.81 ERA and a 1.391 WHiP, striking out 143 batters while issuing 56 walks. In fact, his 117 ERA+ would have been the best of any pitcher in the Phillies rotation in 2019.
Hamels would have certainly fit in the Phillies rotation. He would not have had to be the ace once more, instead being able to slot in as a middle of the rotation arm behind Nola and Wheeler. And he certainly wanted to return, especially as he still lives in the Philadelphia area. A reunion was possible.
Instead, the Phillies just did not value their former ace nearly as high as other teams. Even if they were unable or unwilling to match the Braves offer, something reasonably close would likely have brought Hamels back into the fold. But an offer of half of what a division rival made? That just was not going to work.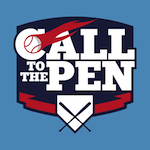 Want your voice heard? Join the Call To The Pen team!
Write for us!
Cole Hamels wanted to return to the Philadelphia Phillies. With the offer made, that was not going to happen.