An argument for the Fightin' Phils to sign Hyun-Jin Ryu
If the Phillies add another starter, a left-handed would be ideal, and perhaps the choice isn't the highest-profile player left. Maybe it's Hyun-Jin Ryu.
The Philadelphia Phillies, presumably, continue to work at the Winter Meetings to improve their now very expensive .500 ball club. Having added two important pieces, the Fightin's still have to add at minimum another starting pitcher, and a left-hander would address a long-standing team problem, the almost exclusive right-handedness of their starters. There is an argument for Madison Bumgarner, but it says here the choice perhaps should be Hyun-Jin Ryu.
Despite being older than Bumgarner, Ryu would bring some interesting aspects that would very likely cost the Phillies less money, something they now have to consider as they close in on the competitive balance tax line.
First, Philadelphia wouldn't have to cough up any hidden-cost cash for Bumgarner's "championship credentials" or his ability to hit. The Phillies wouldn't be riding MadBum's bat to glory more than, maybe, once a year (and that's very unlikely to happen in the post-season), and the rings he has are arguably irrelevant if he moves.
Second, now that Ryu will be competing in his age-33 season with his vaguely Valenzuela-like physique, some clubs may overlook the fact that this guy appears to be one of those players who doesn't hit his peak at 27 or 28, but rather in his early 30s.
Following his 2015 inactivity resulting from a partial labrum repair, the lefty's WHIP has descended from 2.143 (in one game) to 1.008 and 1.007 in '18 and '19. In 2017 when he was first fully healthy, apparently, after almost two years away from MLB action, that figure was 1.366. Last season he was second in the NL Cy Young voting and posted his second year in a row with an ERA below 2.33.
His FIP posting in the last two seasons, following a 4.74 in '17, has been right around an even-3.
Hyun-Jin Ryu has five pitches he can throw for strikes, including a four-seam fastball he seems to have relied on heavily, but not excessively, since 2018, when he cut his home runs surrendered on the delivery from 15 to three. That actually resulted from throwing 450 fewer four-seamers than in '17, but then, this speaks to learning his craft. He threw this pitch 30.1 percent of the time in '18 – nearly every third pitch – but clearly cut out an overuse of the delivery that may have made him a little predictable the previous season. His use of the pitch in '19 – 30.4 percent– was almost identical to his use of it the year before.
That same pitch in '18 resulted in an excellent 36.4 percent infield fly rate.
Ryu will strike hitters out with his change-up, and his curve has improved since '17, producing weak contact as his "secondary strike-getter" (PitcherList.com terminology).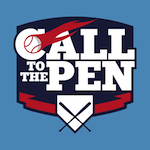 Want your voice heard? Join the Call To The Pen team!
Write for us!
All of this seems to suggest Hyun-Jin Ryu might be a good fit at Citizens Bank Park for half his games in the Phillies red pinstripes.