Washington Nationals offseason might be defined by Josh Donaldson
The Washington Nationals are "actively engaged" in Josh Donaldson, and after missing on Anthony Rendon they need an All-Star at third base.
Anthony Rendon wasn't the loudest person in the clubhouse for the Washington Nationals, yet he was one of the calmest in the biggest situations. But they won't be having #6 at the hot corner so they need to find a replacement, which is very hard to do.
And Josh Donaldson is the closest replacement to Rendon, at least on the field. I understand that some people like my fellow writer, Tom Sileo, believe that Donaldson isn't the best replacement for Rendon because he is the exact opposite in terms of his character.
Donaldson is, of course, a much louder player, as he likes to play with a certain edge that sometimes ruffles a few feathers, but the Nationals also have plenty of characters in their clubhouse that can let Donaldson know if he ever is disrupting the clubhouse chemistry.
And the Nats' real goal is to defend their World Series title, and they aren't going to be able to accomplish that without a great hitter in the middle of their lineup.
Donaldson signed a one-year deal with the Atlanta Braves last season to bet on himself, and it paid off. He was able to play third base almost every day for a playoff team while hitting 37 home runs in 155 games.
He could slot right back into the third spot in the order that Rendon filled, which would keep Trea Turner, Adam Eaton, and Juan Soto all in the same spot in the order where they thrived in 2019.
If the Nationals didn't get Josh Donaldson, then the only other remaining options that they can go to outside the organization are Starlin Castro, Maikel Franco, and Todd Frazier.
Castro hasn't played in big games since he was with the New York Yankees, and he played the majority of his games at shortstop in 2019 with the Miami Marlins.
Franco just got released by the Philadelphia Phillies after failing to reach his potential and Todd Frazier will be entering his age 34 season after having two mediocre seasons in Queens.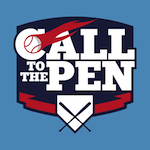 Want your voice heard? Join the Call To The Pen team!
Write for us!
In my opinion, Donaldson seems to be the best option to replace Rendon because he is simply the best third baseman left on the market and has plenty of talent to fill a need for the Washington Nationals. Stephen Strasburg seemed to always be heading back to the Nationals, but Rendon was always the question mark so if they can't find a good enough player to replace him, then it might define their offseason.