Ryosuke Kikuchi ends his dream of playing in majors
Ryosuke Kikuchi's dream of playing in the majors has ended, as he has agreed to a four year contract extension with the Hiroshima Carp.
On Thursday, Ryosuke Kikuchi had announced that he was remaining in Japan, returning to Nippon Professional Baseball after encountering a slow moving market for his services. It was not that much of a surprise, given the glut of free agent second basemen available, that Kikuchi would return to Japan and wait for a better opportunity.
Instead of going through the process next year, Kikuchi has seemingly ended his aspirations of playing in the majors. According to the Japan Times, Kikuchi has signed a four year extension with the Hiroshima Carp, receiving $2.7 million per year, plus incentives.
Defensively, there was no question that Kikuchi is a major league caliber second baseman. He has won five Gold Gloves in Japan, and leads any player in NPB history with 20 runs saved (this metric was only tracked beginning in 2018). For a time in the middle of the decade, Kikuchi was considered the best defensive second baseman not just in Japan, but in the world.
The question with Kikuchi has been his bat. While his lifetime .271/.315/.391 batting line would be respectable in the majors, it is hard to see him replicating his NPB success with the bat. He has a very contact oriented approach and excellent speed, but his tendency to put the bat on the ball so often minimizes his greatest asset.
Kikuchi also had a very backed up market at second base to contend with. There are still 15 players that are considered second basemen who are still available in free agency, including the likes of Starlin Castro, Scooter Gennett, Ben Zobrist, and Brian Dozier. An unknown like Kikuchi was not likely to get a major league contract any time soon.
In the end, Kikuchi us likely back where he belongs. If he has been able to sign in the majors, he would have been a glove first infielder, the type of player that gets lost in the shuffle. In Japan, Kikuchi can remain a star, lauded for his defensive acumen and the little things that he does to help a team win.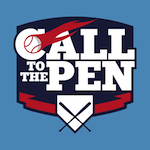 Want your voice heard? Join the Call To The Pen team!
Write for us!
Ryosuke Kikuchi's major league dream is likely over, as he has signed a four year extension with the Hiroshima Carp to remain in Japan.