Miami Marlins add switch pitcher Pat Venditte
The Miami Marlins have made another interesting move, signing switch pitcher Pat Venditte to a minor league contract.
It has been a busy offseason for the Miami Marlins. They have worked diligently to improve their lineup, adding intriguing pieces in Jonathan Villar, Jesus Aguilar, Corey Dickerson, and Francisco Cervelli. Each of those pieces, if they perform well, could end up being chips at the trade deadline, potentially bringing in prospects to accelerate the rebuilding process.
Now that the lineup has improved, the Marlins have turned their attention to the bullpen, albeit in a somewhat lesser way. They have signed intriguing switch pitcher Pat Venditte to a minor league deal, with an invite to the major league portion of Spring Training.
Venditte is a true unicorn amongst pitchers. While other hurlers, notably Tony Mullane and Greg Harris, may have occasionally used both hands, Venditte uses whichever one will give him the platoon advantage. He is as unique a pitcher as exists in professional baseball.
That uniqueness has not exactly led to sustained major league success. Over parts of four seasons, Venditte has posted a 5.03 ERA and a 1.308 WHiP. In his 68 innings, he has struck out 53 batters while issuing 28 walks.
In that brief time, he has proven to be a weapon against left handed hitters, holding them to an aggregate .570 OPS with 34 strikeouts and seven walks in 127 plate appearances. Righties, however, have stung Venditte for a .904 OPS, with 21 walks and just 19 strikeouts in 170 plate appearances.
Yet, even with those stark platoon splits, Venditte could be an asset moving forward. Relievers now have to face a minimum of three batters, unless they record the final out of the inning. Venditte, who can alternate arms and work to a platoon advantage, would be a perfect fit for that rule. Even better for the Marlins, he will not cost much.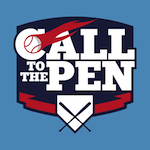 Want your voice heard? Join the Call To The Pen team!
Write for us!
Pat Venditte may not be the most exciting signing, but the baseball journeyman could be an asset for the Miami Marlins bullpen, especially given the new rules governing relievers.