Oscar Colas defects from Cuba, looking to be next Shohei Ohtani
Oscar Colas, the "Cuban Shohei Ohtani", has defected from Cuba and is now seeking an MLB opportunity. The 21 Year old is a future star in the making as an OF and Pitcher.
Any time you hear of a baseball player whose nickname is the "Cuban Shohei Ohtani", you should probably pay attention. The league was void of two way talents at its highest level until Shohei Ohtani came to the Angels and showed that he could rake and be pitcher (after many thought he'd only last as a pitcher). Teams now covet the flexibility that comes with two way players. They are willing to try new development methods and target certain players in the draft.
That brings us to Oscar Colas, a 21-year-old from Cuba who played last year in Japan and put up a great statline of .302/.350/.516 in Japan's top league. Colás has been playing professional baseball since he was 17 years old in the Cuban National Series. The outfielder also has quite the arm and can run it up to 95 on the mound.
Safe to say, MLB teams are going to be interested in Colás. He is the age of a college junior and has had success in professional baseball. The interesting question is when will Colás sign and will he hold workouts. The International Signing Period for free agents resets in July and many teams have already spent their pool money for this fiscal year.
Unless a team secretly knew Colás would defect, they likely don't have the bonus pool money left to fit in what would be a significant outlay. We will likely see some teams try to convince Colás to wait until the next signing period.
Where Colás ultimately signs and is utilized will be fascinating to follow. Now, onto the good stuff, International Youtube Scouting of Colás. I went through Youtube and found some highlights so you don't have to. Enjoy and give your own scouting grades as you see fit.
Colás Homerun – Pull Power
Colás Homerun – Oppo Power
Hustling Down the Line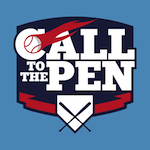 Want your voice heard? Join the Call To The Pen team!
Write for us!
Pretty impressive for a 21-year-old. Teams are probably chomping at the bit to get him into their player development system. Oscar Colas could be a star or he could flame out, but whatever happens, he will be interesting because of his two way profile.