Jae-Hwan Kim remains unsigned, will return to KBO
After testing the waters, Korean Baseball Organization slugger Jae-Hwan Kim will be returning to Korea for the 2020 season.
Jae-Hwan Kim was a relatively surprise entrant into the international signing period. He was coming off of a down season in the Korean Baseball Organization, his production extremely disappointing by his standards. And yet, he requested to be posted, as he looked to pursue his major league dream.
Instead, that dream will be, at minimum, postponed for another year. Kim failed to garner much interest, with his posting period passing without a contract offer. As such, he will head back to the Doosan Bears in the KBO for at least one more year.
Kim reportedly had talks with four different teams, although the Marlins were the only team known to have interest in his services. That interest presumably cooled down when they signed Corey Dickerson to a two year deal, leaving Kim without any viable suitors.
For a time, Kim was one of the premier sluggers in the KBO. From 2016 through 2018, he hit 116 homers, while producing a stellar .333/.414/.629 batting line. However, last season, Kim struggled. While offense was down as a whole in the KBO, his .283/.362/.434 batting line, with just 15 homers and 20 doubles, was just a shadow of his previous production.
That down year, coupled with his relatively late entrance, helped limit Kim's appeal. As it was, there were questions as to how he would handle major league pitching, as he has struggled with good fastballs in Korea. His defense was also in question, making it possible that he would need to move to first or be a designated hitter.
A return to Korea could be the perfect answer for Kim. He obviously was not going to attract much attention after his disappointing 2019 campaign. If he can get back to his slugging ways and show that last year was an aberration, he may be able to fulfill his goal of playing in the majors. Otherwise, he can remain in Korea, where he has become a star.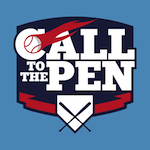 Want your voice heard? Join the Call To The Pen team!
Write for us!
Jae-Hwan Kim has seen his major league aspirations put on hold, at least for one more year. After failing to generate much interest in his services, he is heading back to the Doosan Bears.