Washington Nationals: Anthony Rendon's replacement Carter Kieboom
Top Washington Nationals prospect Carter Kieboom is the natural replacement for departed superstar Anthony Rendon. What can the Nats expect from the 22-year-old?
The Washington Nationals have produced many of their best players from within their farm system. Mike Rizzo and company have been incredibly successful at identifying talent. They have drafted Bryce Harper, Stephen Strasburg, and Anthony Rendon. Signed international studs Juan Soto and Victor Robles and traded for Trea Turner. The internal talent pipeline is a major reason why they won the 2019 World Series.
With Anthony Rendon signing a monster deal with the Angels, the Washington Nationals have a massive hole at third base to fill. While they have been connected to free agent Josh Donaldson and the Cubs' Kris Bryant, the Nats answer already lies within the organization. Carter Kieboom is the next star to come out of the Nationals' system and you should get to know him now.
Kieboom had an 11 game stint in the majors in late April early May when Trea Turner went down with an injury. Besides hitting a home run in his first career game, Kieboom wasn't ready for MLB pitching (most 21-year-olds aren't) finishing with an abysmal .128/.209/.282 (17 wRC+) line. He was sent back to AAA where he performed admirably putting up a 123 wRC+ and playing all the non-1B infield positions.
Remember not every prospect debuts and scorches earth like Ronald Acuna or Juan Soto, not even Mike Trout did it, so file Kieboom's initial struggles away. Kieboom is an absolute stud of a prospect who has the capability to adequately replace Anthony Rendon. Check out what the FanGraphs prospect crew had to say about him.
If you've enjoyed watching Keston Hiura hit for the last year or so, you'll enjoy Kieboom, whose hands work similarly in the box. The efficient loop they create as they accelerate through the hitting zone enables Kieboom to hook and lift stuff on the inner half, including breaking balls, and he's especially adept at driving stuff away from him out to right. This is a special hitting talent who has performed up through Triple-A as a college-aged shortstop, and Anthony Rendon's departure opens the door for at-bats right away.

We don't really like Kieboom at shortstop. He's a little heavy-footed and his hands are below average. He's arguably better-suited for second or third base, but one could argue he's at least as good as Trea Turner is there right now (Kieboom has worse range but can make more throws), so the short- and long-term fit here may be different. Regardless of the defensive home, Kieboom projects as a middle of the order bat with All-Star talent.
Keston Hiura made an immediate impact on the Brewers so that is high praise. Tools wise Kieboom has above-average hit and game power along with a strong arm that can make all the throws at third base. He has a 60 FV grade on him which is the same as MLB ready prospects like Dustin May, Gavin Lux, and Brendan McKay.
Are you a more visual learner? Check out his sweet swing in this highlight tape.
While he wasn't ready for MLB pitching, Kieboom still managed to register a 90.9 MPH exit velocity in a small sample, including a 108.6 MPH rocket. Spoiler, that video is a ground out but he still smashed it. Had he qualified, Keiboom's 90.9 MPH EV would have been the same as Trevor Story and Joc Pederson, top 65 in baseball and pretty damn good for a 21-year-old.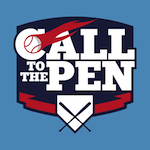 Want your voice heard? Join the Call To The Pen team!
Write for us!
Carter Kieboom is going to be a stud for the Washington Nationals. Rendon signing in LA means there is an open spot immediately at third base. The Nationals have veterans Asdrubal Cabrera and Starlin Castro in the mix but neither would block Kieboom from getting reps at second base as well to see where he fits best. Prospects rarely succeed in their first taste of the big leagues, Kieboom is no exception. That being said, Kieboom has all the tools to perform and take his place as another Nationals draft success story.