Texas Rangers: Robinson Chirinos Comes Home
The Texas Rangers agreed to a deal worth $5.75M for 1-year to bring back catcher Robinson Chirinos.
Robinson Chirinos and the Texas Rangers have agreed to a 1 year, $5.75M deal with a club option and $1M buyout. Chirinos stays in the state of Texas where his deal is slightly more valuable because he will play a majority of his games (Astros are also in their division) in a state without an income tax. Chirinos returns to the organization he spent six years with from 2013-2019.
Chirinos just turned in a career year hitting .238/.347/.443 (113 wRC+) and good glove work adding in +3 Defensive Runs Saved. In total, he racked up 2.3 fWAR for an Astros team that lost the World Series. His contributions made him a top 10 Catcher in baseball, totaling the same WAR as Yankees' catcher Gary Sanchez.
Chirinos immediately becomes the top catcher in Arlington and represents a huge upgrade for the Rangers. Last season, the Rangers finished 30th in catcher production with stats you have to see to believe.
The 2019 Rangers catching core hit an abysmal .203/.251/.301 which translates to a 34 wRC+. For comparison, New York Mets Pitcher Stephen Matz had the same offensive production. All told, the Rangers' black hole at catcher produced -3.5 WAR. For those looking for highlights; it looked a little like this.
Even if Chirinos is exactly replacement level, he would be a 3.5 win upgrade for the Rangers. At 35, Chirinos probably won't repeat his career season but will be an upgrade nevertheless. There are some concerning indicators that Chirinos last season was smoke and mirrors.
He has below-average exit velocity and one of the worst expected batting average (xBA) in baseball. Looking at his batted ball data, not much changed from a Pull/Oppo perspective. He did increase his line drive and ground ball rate by several points. His plate discipline numbers aren't meaningfully different either.
It could be that Chirinos emphasized trying to hit it where they aren't or he benefited from the Astros sign-stealing operation. In fact, Chirinos had a massive Home/Road split, having a 148 wRC+ at home compared to a 79 wRC+ on the road….suspicious to say the least.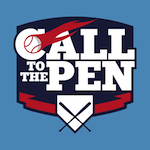 Want your voice heard? Join the Call To The Pen team!
Write for us!
Chirinos is a solid signing for a Rangers team that seems to be shooting for the middle and seeing if they catch fire. If they don't, Chirinos is cheap enough that the Astros or some other contender could acquire him as solid catching depth for a postseason run. There is risk he could be regress but for the Texas Rangers, just about anyone would be an upgrade.