Washington Nationals stay ahead of the curve on Josh Donaldson
Mike Rizzo and the world champion Washington Nationals were smart to stop waiting on free-agent third baseman Josh Donaldson to finally make a decision about where he'll play this season.
Back in November, I wrote that the Washington Nationals should pass on high-priced 34-year-old free agent Josh Donaldson and sign Starlin Castro instead.
So far, my suggestion has become a reality. Well, sort of.
While general manager Mike Rizzo recently said the Nats aren't necessarily out on Donaldson, a flurry of moves has his team in an admirable position should the third baseman choose the Atlanta Braves, Minnesota Twins or another team. In addition to Castro, Washington signed infielders Howie Kendrick, Asdrúbal Cabrera, and Eric Thames while maintaining talks with free agent "face of the franchise" Ryan Zimmerman.
Instead of staying mostly quiet on the position player front like the Twins and division rival Braves, Rizzo decided to be proactive. Assuming Zimmerman comes back, the Washington Nationals have a plethora of versatile infielders including Carter Kieboom, who impressed last Spring Training before spending most of 2019 refining his skills in the minors.
Make no mistake: Anthony Rendon signing with the Los Angeles Angels will be a significant subtraction for the World Series Champions if they are unable to add Donaldson or trade for another star like Nolan Arenado or Kris Bryant. As the Nats roster currently stands, there is no bat of Rendon's caliber to slot in front of magnificent young cleanup hitter Juan Soto.
Could a third base combination of Cabrera, Castro, and Kieboom make up the difference? Probably not, but had Rizzo chosen to stand pat and wait on Donaldson, the Nationals would undoubtedly be in a state of limbo. There's a reason the longtime Nats GM was recently named MLB Executive of the Year by multiple organizations.
Maybe Josh Donaldson will ultimately choose the Nats. Should that happen, the Braves will be left scrambling to find a cleanup hitter as theirs joins an archrival. If the "Bringer of Rain" signs with the Twins or heads elsewhere, Atlanta would still be in panic mode.
Should Donaldson return to Cobb County, Georgia, the Washington Nationals would most likely begin their title defense with a weakened lineup. Having a vastly improved bullpen compared to this time last year to complement a championship rotation is the best plan to compensate for scoring fewer runs.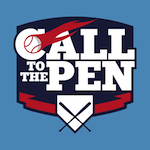 Want your voice heard? Join the Call To The Pen team!
Write for us!
Your move, Mr. Donaldson.