Los Angeles Dodgers bring back LHP Alex Wood
The Los Angeles Dodgers are bringing back LHP Alex Wood to a 1-year deal worth $4M. Here's what we know.
At the end of 2018, the Los Angeles Dodgers traded away Alex Wood, Yasiel Puig, and Matt Kemp to the Cincinnati Reds for a pair of prospects and salary relief from Homer Bailey's contract.
Wood's 2019 season never got off the ground as he struggled with a back injury. All told, Wood contributed 35.2 innings of 5.80 ERA ball.
The Dodgers continue their tradition of signing pitchers with significant upside and injury risk. Alex Wood will be back in a familiar position with a team he had the best years of his career. The Dodgers get a LHP who has been above average when healthy for $4M with incentives that could push it to $10M. Wood actually slots in perfectly to the injured mid-rotation lefty job Rich Hill vacated when he raised hell at a Patriots tailgate signed in Minnesota.
Wood has never been an innings eater, topping out 189 innings in 2015 and averaging more in the 150 innings range. One could argue only throwing 35 innings in 2019 bodes well for Wood moving forward cause he saved a year of wear and tear on his arm. The Los Angeles Dodgers training staff was able to keep Wood mostly upright during his tenure in LA. Between the training staff, Dodgers manipulative use of the IL, and the fluidity of pitching roles, Wood should be able to contribute plenty in LA this season.
Now that we've gotten the negative out-of-the-way, we can talk about the good things that Wood will bring to the Dodgers' rotation and bullpen. Alex Wood has a weird delivery as evidenced by this slow-motion video. Between the arm stab when he breaks his hands and lower arm angle, his delivery is nontraditional and is very deceptive to lefties and righties alike.
That delivery has produced strong results in Wood's career thus far. He has a career K-rate of 22.1% and a minuscule 6.8% BB-rate. He also has logged a 49% ground ball rate. Put differently, 71% of batters he faced either strike out or put the ball on the ground, which has a higher probability of an out and also limits the damage that can be done against him.
Wood's sinker heavy approach may be the opposite of the high-spin- 4-seam arm many teams currently covet, but his results speak for themselves. He's effective against lefties and righties which is beneficial if he ends up in the bullpen because of the three batter minimum coming in 2020. Lefties were held to an abysmal .247/.289/.333 line and righties didn't fare much better at .250/.313/.348.
Flashback to 2018, Wood was a top 45 pitcher despite only throwing 150 innings. The upside of a 200 inning workhorse isn't there, but on a rate basis, Alex Wood is a better pitcher than you might think.
The Los Angeles Dodgers will likely deploy Wood in the rotation and as a multi-inning reliever throughout the season. If they can be healthy at the same time, Jimmy Nelson and Alex Wood would make a pretty interesting pitching tandem that could get you 6 to 8 innings in a start. It would manage both pitchers' workloads and the Nelson/Wood hybrid could be the same as a #2 pitcher.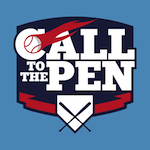 Want your voice heard? Join the Call To The Pen team!
Write for us!
In the playoffs, Wood and his funky delivery could make him a shutdown match-up guy when needed and can still give you length since there are no more LOOGYs. The possibilities are endless for Alex Wood, he just needs to be healthy enough to be out there.