Minnesota Twins: It may be time to shut down Ervin Santana
The 2018 season has been a lost one for the Minnesota Twins, but for their presumed opening day starter, it's been worse.
The Minnesota Twins came into 2018 with hopes of competing for an American League Central division title. When the team's most-reliable starter from 2017, Ervin Santana, went down before spring training even began with a finger injury that was going to delay the start of his season significantly, it should have been a sign that the season was not going to go the Twins' way.
They certainly did not for the Minnesota Twins, and they definitely have not for Ervin Santana, either. After a number of setbacks in his recovery, Big Erv finally made it back to the major leagues on July 25th, but after allowing multiple runs in each of his 5 outings on the season, and not once throwing walk-free baseball, Santana ended up back on the DL, which led to the Monday debut of Stephen Gonsalves.
On his 5 starts, some incredible numbers were present. For a guy who walked roughly 7.25% of the hitters he faced over his Twins career coming into this year, he's walking 7.9%, which may not seem like a big jump, but it's definitely notable that his command and control are not there. Santana had also allowed roughly 3% of all hitters he faced before this season since joining the Minnesota Twins to go deep on him, but in his 5 starts this year, he's seen almost 8% of hitters homer off of him.
With that struggle with his stuff, and the loss of his vest in his 2019 option after not reaching the required innings, the Minnesota Twins would be wise to let Ervin go for the $1M buyout rather than pick up his $14M option. Ervin would likely be best served by finishing the season on the DL and taking a one-year deal to come back and "prove it" in 2019 rather than come back and possibly hurt his value even further as right now his rough performance can still be attributed to injury.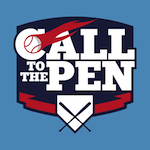 Want your voice heard? Join the Call To The Pen team!
Write for us!
For the Minnesota Twins, there are a host of arms that can get starts over the last 6 weeks of the season with Zack Littell, Fernando Romero, and Lewis Thorpe are healthy and on the 40-man roster, while Aaron Slegers, Adalberto Mejia, and Michael Pineda each are on the DL and rehabbing with a chance to pitch as the season finishes out.