Phillies' Zach Eflin seizes early MLB complete game lead
The Phillies' Zach Eflin, a question mark in the rotation two weeks ago, suddenly looks more and more like an answer.
Early season records are by definition unripe nonsense, as most baseball fans know. However, when a team has been trying for half a decade or more to develop a group of young pitchers, as the Philadelphia Phillies have, and a second pitcher in the group steps forward after a near Cy Young-year by the first, an early season, all-pitchers' lead suddenly looks awfully good. On May 11, Zach Eflin seized the lead in MLB complete games with…drumroll…his second such effort.
Moreover, this was his second complete game inside two weeks.
Good lord, call the trainer. Don't the Phillies know the calendar has turned over into the 21st century? What does this momentary record even mean? Isn't the young man in danger?
As it turns out, he's probably just fine, having thrown a total of just 217 pitches in his two complete games, 107 in the win in late April against Miami and 110 against Kansas City May 11 in a 7-0 shutout. Perhaps, however, the more important fact is that between these two very fine efforts, Eflin threw seven complete innings against the more daunting Washington lineup, not that KC is chopped liver at the top with Whit Merrifield, Adalberto Mondesi, and Alex Gordon hitting first through third.
But let's return to the game that has given Eflin the temporary MLB lead in complete games. As Scott Lauber notes, the righthander mixed fastballs, sliders, and sinkers to induce mostly groundouts. The NBC Sports Philly broadcast crew's count there was 16 of the 27 outs he recorded.
Eflin surrendered a hit to each of the Royals first three hitters and only one other safety to anyone else Saturday night. Thus, in his last 25 innings, he has given up only 15 hits and two earned runs. His current WHIP is 1.020, 0.265 lower than his career aggregate figure, and his record is 5-3. He's gotten a decision in every start, throwing fewer than five full innings only twice.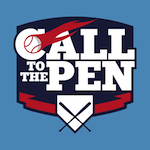 Want your voice heard? Join the Call To The Pen team!
Write for us!
At 25, Zach Eflin is looking less and less like the question mark he was on Opening Day (or even last week), and more and more like an answer. There have been only 11 complete games in major league baseball this season, and he is the only one with two.