Once and for all: Did Shoeless Joe Jackson play to win in the 1919 Series?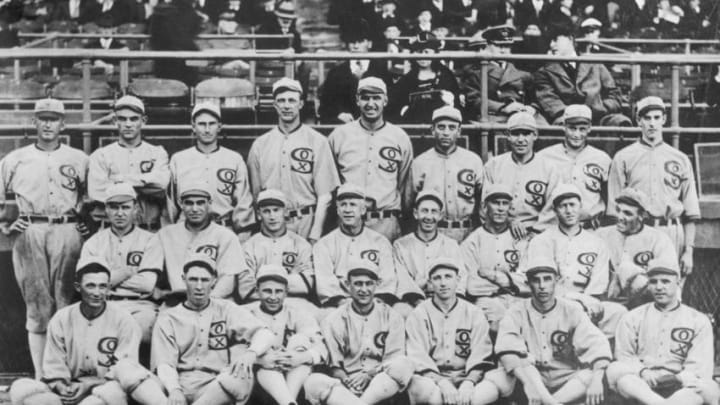 Group shot of the 1919 White Sox. They would after this year be known as the "Black Sox Scandal" team, due to the allegation that eight members of the team accepted bribes to lose the 1919 World Series to the Cincinnati Reds. These eight players, pitchers Eddie Cicotte and Claude "Lefty" Williams, first baseman Charles "Chick" Gandil, shortstop Charles "Swede"Risberg, third baseman George "Buck" Weaver, outfielders Joe "Shoeless Joe" Jackson and Oscar "Happy" Felsch, and pinch hitter Fred McMullin, were banned from the game of baseball for life. /
1916: Shoeless Joe Jackson(Photo by Bruce Bennett Studios/Getty Images) /
Looking game-by-game at Chicago White Sox outfielder Shoeless Joe Jackson embroiled in the "Black Sox" scandal Series that shook baseball.
Last year was the anniversary of the 1919 World Series. The season to come will be the centenary of season-long rumors exploding into actuality, when a published accusation led to a grand jury, to White Sox owner Charles Comiskey suspending seven players accused of conspiring with gamblers to throw the Series (an eighth, Chick Gandil, retired before the 1920 season after a contract dispute), and to pitcher Eddie Cicotte confessing to the grand jury, detonating the scandal in earnest.
Enough of the mythology around that Series and the scandal to follow has been debunked profoundly by the Society for American Baseball Research. (Fair disclosure: I'm a member myself, and I authored an essay for their Black Sox Scandal Committee's newsletter in December 2018, arguing that the 1919 Cincinnati Reds could have won the Series if it was played straight, no chaser.) You can (and should) read it elsewhere.
This past weekend, according to ESPN reporter Dan Van Atta, who produced a Backstory segment on players banished from baseball for life, someone from MLB (Van Atta didn't identify him) suggested death might actually end such banishment, but someone else from the Hall of Fame said not so fast. Two players who would-be Hall of Famers otherwise remain on the list. One remains dead, the other is alive and 78 years old, and gambling was their downfall.
More from Chicago White Sox
Shoeless Joe Jackson is one of the White Sox's Eight Men Out thanks to the 1919 World Series fix. Pete Rose is banished because he broke the rule provoked directly by the Black Sox scandal and its exposure of the rampant game fixings under gamblers' financing in baseball's earliest history.
I'm not going to re-argue the Rose case or re-examine the complete depth of the Black Sox scandal here. What I'm going to do is look objectively at the 1919 Series to answer a question that's always resurrected whenever anyone has occasion to look at that scandal: Did Jackson really play to win in the 1919 Series?
Set aside for now whether Jackson was or wasn't ambivalent about the Series plot. Set aside that yes, he did accept an envelope containing a $5,000 payoff, however ambivalent he did or didn't feel about it, however long it took him to speak up about it. Set aside everything else in those games, everything else the White Sox did or didn't do, everything else the Reds did or didn't do. (Including the fact that as good as the Reds' pitching proved to be, their defense made things even more challenging for them as often as not.)
Jackson's sympathizers point continuously to his 1919 World Series slash line: that .375 batting average, that .394 on-base percentage, that .563 slugging percentage, that .956 OPS. If that's the only thing you see of his Series performance, not to mention five runs scored and six driven in, you'd think—no matter what the shenanigans around him were—that, no, he really wasn't trying to go into the tank.
What does a closer look show? Let's look only at Jackson batting in the Series with men on base. He batted fifteen such times, with six hits, four driven in, one strikeout, and twice reaching on errors. (.400 BA.) Still credible, right?
But now let's take it with the absolute closest look possible. Game by game, score by score, situation by situation, every time he checked in at the plate with men on base. Consider, too, that on the regular season the 1919 White Sox were a better-hitting team but the 1919 Reds were actually the better-pitching team. (As Mr. Thurber said, yes, you can look it up.)