Yankees: taking a moment to remember losing Lou Gehrig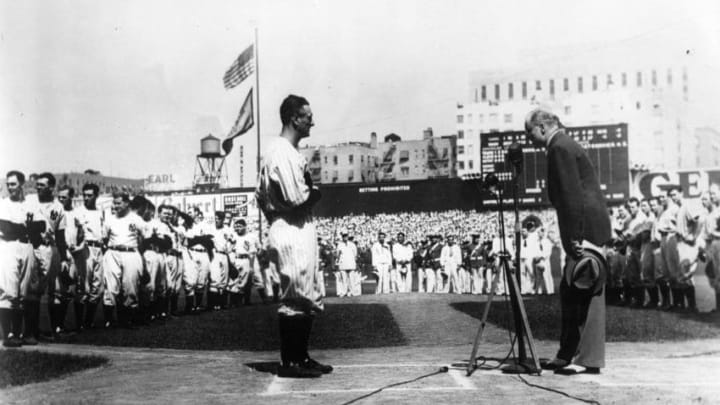 NEW YORK, NY - JULY 04: Lou Gehrig stands in front a microphone in Yankee Stadium to deliver his farewell address on July 4, 1939 in New York CIty. (Photo Reproduction by Transcendental Graphics/Getty Images) /
79 years ago to the day, the world lost New York Yankees legend, Lou Gehrig.
Growing up I wasn't a New York Yankees fan and didn't know too much about the storied franchise and the rich history. Through media sources, I came to hate the Evil Empire for their big-spending ways. The only aspect about Lou Gehrig I knew was he had a consecutive games streak. Then I did some reading.
Having heard the phrase, "The Yankee Way", and not knowing what it meant, I constantly judged the team on the bias. I read a few books, starting with Billy Martin, then Joe DiMaggio, Mickey Mantle, even lesser-known stars like Bobby Richardson and Ron Guidry.
I came to find the Yankee Way meant playing hard, looking good, and being all business when between the foul lines. "Don't mess with my money", was a sentence commonly spewed by Yankee veterans when younger players were messing around during games. The players who were paid peanuts back then were counting on the postseason checks to supplement their meager regular-season paychecks.
More from Call to the Pen
Then I read, Luckiest Man: The Life and Death of Lou Gehrig. Lou was the perfect Yankee. His mother was a hard-working person who through her working connections at Columbia University paved the way for Lou to attend the school.
Columbia Lou would eventually make his way to the Yankees and begin an improbable consecutive games streak. He played through injuries, he played through slumps, he played through distrust of the teams best player, Babe Ruth.
Then I read, My Luke and I, written by his wife Eleanor Gehrig. Thousands of athletes have uttered the phrase, "when I can't contribute anymore on the field (court), I'll take myself out of the lineup." Gehrig was the first to say it, and he meant every word.
The disease which would eventually bear his name would wreck his body, but not his mind. His hitting suffered and even though his coaches begged to keep him in the lineup, Gehrig decided to sit because he wasn't contributing to the team positively.
He always played with a smile. He always played at 100%. His luckiest man speech was not written, it was improvised. He didn't embody what it was like to be a New York Yankee, he helped create the aura of what it was like to wear the pinstripes.